Journal of Pragmatics Research
, (JoPR),

E-ISSN

: 2656-8020, is published by State Institute of Islamic Studies
Salatiga, Indonesia. it is an Internatonal forum published every April and October and aimed at developing all aspect of scholarly theories and research on pragmatics,
Pragma-linguistics, socio-pragmatics within the Indonesian context of political, socio-cultural aspects. There are abundant classic and contemporary Pragmatics theories but this journal aimed at developing Indonesian scholarly theories of Pragmatics. It also wants to develop other areas of language studies, such as cognitive linguistics, sociolinguistics, discourse analysis, applied linguistics, stylistics, anthropology and communication studies.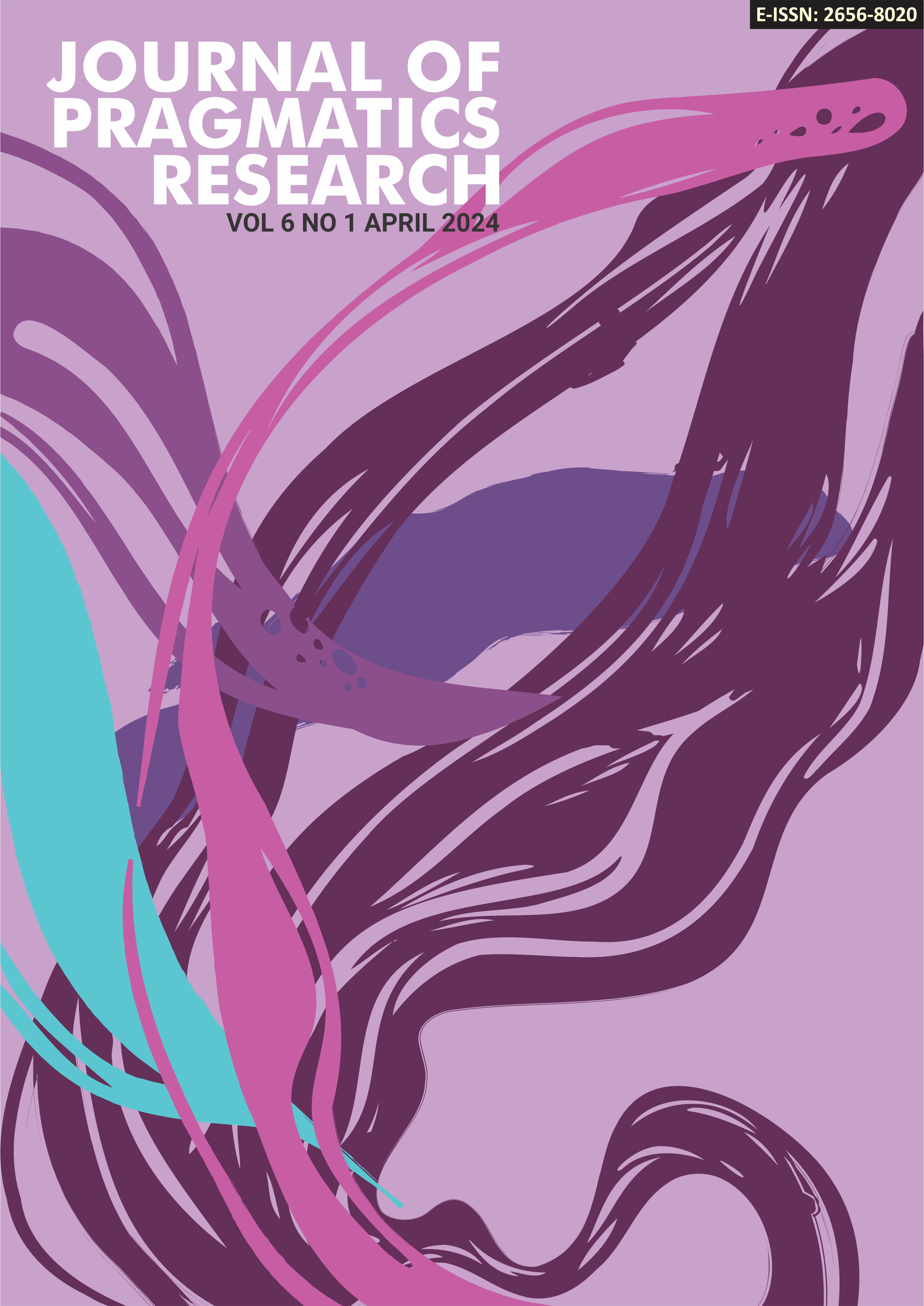 Announcements
JoPR CALL FOR PAPER 2021 (For October 2021 Publication)

JoPR CALL FOR PAPER 2021 (For October 2021 Publication)

Journal of Pragmatics Research, English Education Department, (IAIN) Salatiga,

Indexed in: DOAJ, Publons, EBSCO, BASE & Google Scholar

CALL FOR PAPERS VOL 3 NO.2 October 2021

Pragmatics, Interlanguage pragmatics, Sociolinguistics, Discourse analysis and Socio-pragmatics.

SUBMISSION DEADLINE: July 31, 2021

Submission> Author Guidelines

E-mail:jopr@iainsalatiga.ac.id

 

Posted: 2021-04-11
More...

LIST OF INTERESTING TOPICS OF DISCUSSION IN PRAGMATIC STUDIES

Posted: 2021-03-22
More...

DISKUSI ONLINE PDF SERIES #8

 




 

DISKUSI ONLINE PDF SERIES # 8
*Rura Basa dalam Bahasa Jawa*
Dear All PDF-LOVERS
Pragmatics Discussion Forum
Proudly Presents
DISKUSI ONLINE PDF SERIES #8

PEMBICARA:
Prof.Dr.I Dewa Putu Wijana, MA, 

Universitas Gadjah Mada, Yogyakarta.

MODERATOR: Eka Margianti Sagimin, S.S., M.Pd. , 

Universitas Pamulang

 


Pada Hari Sabtu, 13 Maret 2021, JAM 09.00 - 11.30
VIA ZOOM only for 100 seats.
Registrasi Gratis ke:
http://bit.ly/webinarpdf8
Narahubung:
Faizal (085642019501

Posted: 2021-02-23
More...
Vol 3, No 2 (2021): Journal of Pragmatics Research (in Progress)